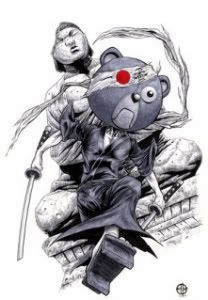 After an absolutely
killer
show at
KRUU FM
, I braced the
cold
, and ventured over to our
secret
extended branch
on S.
3rd Street
. While I was there, I just so happened to watch the entire "
Afro Samurai
" saga -- a series I haven't seen for at least a year. To quote local free-lance artist
Lane Hollrah
, "
After all I've witnessed [anime-related], Afro Samurai is still the flyest thing I've ever seen
."
Couldn't have said it better myself. And you know what's even better?
Afro
has the soundtrack of hip-hop absolute legend. Produced by the
RZA
, this
OST
is an absolute staple. For those with simply one or two tracks, I strongly recommend piecing together your library with this gift, courtesy of the Captain --
And this clip --
a viewer discretion advised
: this does get pretty
bloody
.
----
In other news, local legends
Utopia Park
, slated for Saturday's showdown at
The Beauty Shop
, drop their newest piece of video gold. This
mask-riddled joint
, entitled '
Problem Child
', isn't short on visual oddities -- the humanimals (
human + animals, silly
) at
:32
channel some
more-than-interesting
vibes. This track's quite a jump from previous material, most released under the "
Porno Galactica
" moniker. I like this jump. A good reach in a new direction, "
Problem Child
" is one for the books. Keep your eyes on these guys, as well as the up-and coming "
Sweat Power festival
" - details soon!
Without further ado,
Captain Captain Industries
presents :
"
Problem Child
", the new video by
Utopia Park
--
----
Keep it set at the
Industry
; we've got some projects in the works as we speak. Our mixtape has blossomed from "
just an idea
", into "
in-the-works
". Interested in being on said tape? Get at us by leaving a comment, finding us on
FaceBook
(
link also @ the bottom of the blog
), or our long-running
MySpace
profile. Also, we're gonna have some new details on that
Sweat Power festival
-- something that one does not wanna miss. Last year's line-up, consisting of
Mumford's
,
Christopher the Conquered
, and many, many other groups, was an absolute blast.
Yeah -- like I said, you're gonna wanna see this.
Alright y'all. I'm headed to the man-cave. Just snagged the entire three-season legend that is
Arrested Development
for like, thirty bucks --
Target
's nice during the holidays.
I'm out --
C.C.I xx